You have set up an amazing fish tank, and haven't considered different types of Tetra Fish to add in yet! What are you waiting for?
For a while now, Tetra fish has been loved by the people who keep aquariums as a hobby. They captivate hobbyists with their vibrant hues, lively personality, and calm demeanor, which enhance the energy and attractiveness of any aquarium arrangement.
Thus, gear up to discover some extremely cool types of Tetra fish species! From popular Neon Tetras to more rare kinds, each one is super interesting and this blog has got it all covered!
What is Tetra Fish?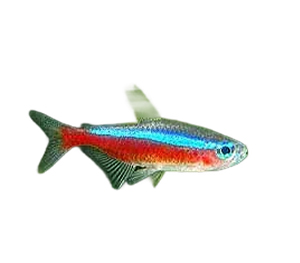 The underwater world is filled with amazing fascinating creatures and Tetra Fish is also one of them. These lively little swimmers belong to the characin family called Characidae, and they have become quite popular among home aquarium owners for their striking colors and calm temperament.
Tetras are tough and can adapt well to different environments making them suitable pets wherever you are located on Earth. The interesting thing about these fish is that they exist in numerous species with unique colorings as well as patterns all originating from South America or Africa.
Moreover, like other members within the Characins family, Tetra fish types lay eggs especially where water plants thrive in abundance. To every enthusiast looking to invest time in Tetra fish breeding, they will certainly love owning them since it demands less attention than most other aquatic species while providing an aesthetic appeal.
Disclosure: This article contains affiliate links. When you follow a link to purchase the products, I sometime earn a commission, at no additional cost to you. Read my full disclosure here.
Types of 10 Popular Tetra Fish Species
The colorful, sparkling blue and red stripes that cover the entire length of neon Tetras' bodies are what make them so popular. When kept in aquariums with six or more, these calm and social fish flourish, producing a breathtaking appearance in any tank. Maintaining tanks with soft, slightly acidic water and offering them a diet of some tiny frozen foods will ensure their well-being.
| | |
| --- | --- |
| Care Level | Easy |
| Temperament |  Peaceful |
| Life Span | 5-10 years |
| Tank Size | 10 gallons or larger |
2. Cardinal Tetras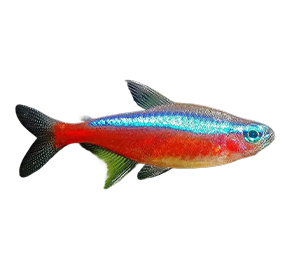 Cardinal Tetras draw the attention of the audience with their mesmerizing colors. Their striking display of color and movement is created by their deep blue bodies, which are covered with bright red tones along the bottom part of their body. They flourish when placed in groups with different types of Tetra fish, encouraging a feeling of unity and displaying their full beauty, similar to Neon Tetras.
| | |
| --- | --- |
| Care Level | Moderate |
| Temperament |  Peaceful |
| Life Span | 3-5 years |
| Tank Size | 20 gallons or larger |
3. Black Tetras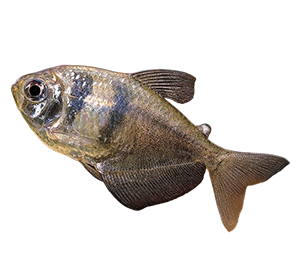 Black Tetras, commonly referred to as black skirt Tetras, demand attention due to their elegance. These fish have flowy fins and sleek, black bodies that provide a flair of elegance to any tank. Black Tetras are calm and sociable fish that get easily along with other species of fish. They can adapt well to various water types, but they prefer water that is slightly acidic with lots of hiding places and swimming space.
| | |
| --- | --- |
| Care Level | Easy |
| Temperament |  Peaceful |
| Life Span | 3-5 years |
| Tank Size | 10 gallons or larger |
4. Serpae Tetras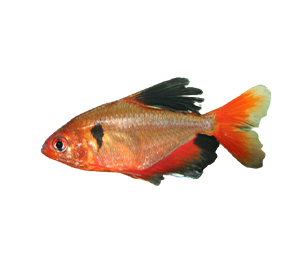 Aquariums are set ablaze by the bright red-orange shade and eye-catching black markings on the fins of Serpae Tetras. These energetic and slightly feisty Tetras thrive in small communities with resilient and active fish species.
| | |
| --- | --- |
| Care Level | Moderate |
| Temperament | Semi-aggressive |
| Life Span | 3-5 years |
| Tank Size | 20 gallons or larger |
5. Glowlight Tetras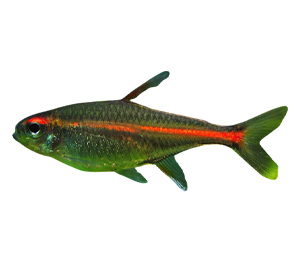 Aquariums are brightened by the reddish-orange stripe which runs along the outermost line of Glowlight Tetras, which produces an enticing glowing effect. When kept in groups with different types of Tetra fish, these calm schooling Tetra species exhibit their best behavior and coloring.
| | |
| --- | --- |
| Care Level | Easy |
| Temperament |  Peaceful |
| Life Span | 3-5 years |
| Tank Size | 10 gallons or larger |
6. Ember Tetras
Small Tetra species called Ember Tetras light up aquariums with their fiery orange coloration. Even in tiny tanks or nano setups, these tranquil fish can be placed in groups. Feed them high-quality fish food such as flakes, tiny live foods, and micro-pellets to them for their increased lifespan.
| | |
| --- | --- |
| Care Level | Easy |
| Temperament |  Peaceful |
| Life Span | 2-3 years |
| Tank Size | 5 gallons or larger |
7. Lemon Tetras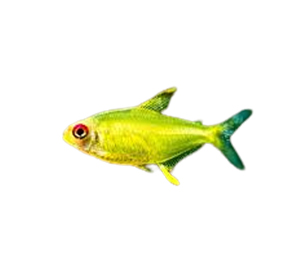 Lemon Tetra, has a stunning lemon-yellow body color with a fragile silver stripe, making for an eye-catching display. These peaceful-attitude fish do best when kept together with different types of Tetra fish because it supports their instinctive behavior and self-assurance. Give them plenty of swimming space for their growth and nourishment in Tetra fish tank size and watch how they add life to your space.
| | |
| --- | --- |
| Care Level | Easy |
| Temperament |  Peaceful |
| Life Span | 3-5 years |
| Tank Size | 10 gallons or larger |
8. Diamond Tetras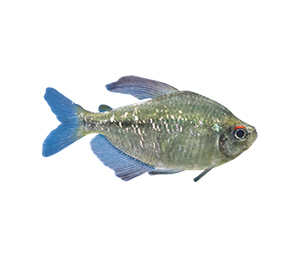 Under ideal illumination, Diamond Tetras exhibit a stunning silver body covered in reflective scales which shine like sparkling diamonds. These friendly fish are great company for other peaceful species of the same shape and size in social tanks. Not only this but if you are aiming for Tetra fish breeding, diamond Tetras are perfect to start from!
| | |
| --- | --- |
| Care Level | Easy |
| Temperament |  Peaceful |
| Life Span | 3-5 years |
| Tank Size | 10 gallons or larger |
9. Bleeding Heart Tetras
The bleeding heart Tetra has a remarkable trait—a noteworthy blushing red spot near its gills—that matches its name perfectly. The location of this vivid red dot, though not exactly on its real heart, is very near to justify its common title. This freshwater fish has a diamond-shaped body that is similar to other Tetra species and has a tall, compressed form in the middle. Its appealing red and black eyes are highlighted by a gracefully tapering head that ends in a pointed snout.
| | |
| --- | --- |
| Care Level | Moderate |
| Temperament |  Peaceful |
| Life Span | 5-8 years |
| Tank Size | 20 gallons or larger |
10. Silver Tip Tetras
The iconic torpedo-shaped body that distinguishes many species in the Characidae household can be found in silver Tetra fish types. Their streamlined form is strikingly similar to the neon Tetra species and Cardinal Tetra. Despite having a similar body shape, the silver tip Tetra differs from other Tetras in that it lacks an adipose fin that is situated at the back of its dorsal fin. For them to nourish, you must have a Tetra fish tank size of 10 gallons at least.
| | |
| --- | --- |
| Care Level | Moderate |
| Temperament |  Peaceful |
| Life Span | 5-8 years |
| Tank Size | 20 gallons or larger |
What are Some Rarest Tetra Fish?
Emperor Tetra
The rare and extraordinary Emperor Tetra is notable for its vivid colors and distinctly elongated fins. It adds an element of royalty to every aquarium with its metallic navy blue body and striking red accents.
Kubotai Rasbora
The Kubotai Rasbora attracts due to its visually appealing appearance. This species is a rare find cherished by many hobbyists. It has a brilliant blue-green physique covered with horizontal lines and a bright splash of bright orange on its fins.
Silverado Tetra
Although the Silverado Tetra species is less well known, it is valued by aquarists all around the world. This extremely rare Tetra species has a silver body with shimmering blue and red flowy fins that give it a touch of elegance. Also, bear in mind that they thrive only in 10 to 20-gallon Tetra fish tank size.
Tetra Fish Diseases and Health Issues
Tetra fish are susceptible to several illnesses and other fish diseases, just like any other living thing. Ich (white spot disease), velvet disease, fin rot, and infections caused by bacteria, are among the common illnesses that affect Tetra fish. These conditions frequently show symptoms that can be seen, such as the development of white marks, decaying flowy fins, sluggishness, diminished appetite, or unusual swimming patterns.
Keeping Tetra fish types in a healthy environment and suitable Tetra fish tank size is essential to preventing such illnesses. Their immune systems can be weakened and their risk of illness is increased by factors such as poor water quality, overpopulation, tension, and inadequate nutrition.
Tetra Fish Species Selection
Tank Size and Compatibility: When selecting the right Tetra species for your fish tank, make sure that your Tetra fish tank size is compatible with the Tetra Fishes. Some tetras thrive better in larger tanks or have a particular preference when it comes to their tank mate choices, whereas others are more adaptable and work well within a community setting.
Water Parameters: Tetra fish require specific water conditions such as temperature, pH level, and water hardness. It is crucial that you take some time to research the preferred water conditions suitable for the type of Tetra species you're interested in getting so that it matches with what kind of setup you already have or whether adjustments need to be made.
Behavior and Activity Level: Each Tetra has unique tendencies when it comes down to behavior patterns and activity levels. A few are highly active by nature where swimming freely around open areas provides entertainment while others prefer quieter surroundings behind objects providing plenty of hiding spots that prevent stimulation from becoming overwhelming. However, each type will only showcase its best attitude when they are comfortable in the environment and for that, you must consider Tetrar fish tank size to keep them in the best of their health.
Care Requirements: You have to do your homework and figure out how to take care of each type of Tetra. This includes what kind of food they eat, cleaning their tank, and anything else important. Make sure you can handle it all so that there is enough Tetra fish breeding and the little guys stay healthy!
Fun Facts about Tetra Fish Types that You Might Don't Know!
Tetra fish are named Tetra because of their four unpaired fins.
Some Tetra fish species, such as the Glowlight Tetra, have a natural bio-luminescent trait that causes them to emit a soft glow in dimly lit areas.
The intensity of the black stripes can either increase or decrease based on the Black Neon Tetra's mood.
Tetra species have a distinctive organ identified as the Weberian apparatus that aids in their ability to hear and understand underwater sounds.
Ember Tetras are renowned for being incredibly tiny, with females growing to a length of only about 1 cm.
Wrap Up
There is no surprise as to why aquarists love to keep Tetra species in their aquariums! These tiny creatures are meant to offer plenty of diversity and charm to your aquariums. Yet it's essential to remember they have particular needs such as the right water conditions and care level that require attention for ideal Tetra fish breeding. A good home setup, appropriate Tetra fish tank size, proper diet, and attentive maintenance will guarantee these marvelous creatures live up to expectations whether you're experienced or just starting in raising them!